Fahad Ansari
Riverway Law is led by Fahad Ansari, a practising solicitor with over 15 years of immigration, asylum and nationality law experience.
Fahad is a Recommended Lawyer in the 2023 and 2020 editions of The Legal 500 in the areas of Immigration: Human Rights, and Civil Liberties/ London. 
"Fahad Ansari has a burgeoning practice in national security cases in the High Court and Special Immigration Appeals Commission and has achieved remarkable results."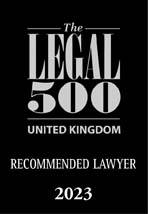 Fahad qualified as a solicitor in 2009 having studied law at University College Dublin and De Paul University, Chicago. He obtained an LLM in International Human Rights Law from the National University of Ireland, Galway.
Fahad is accredited as a Senior Caseworker under the Law Society's Immigration and Asylum Accreditation Scheme, a stringent process involving exams and regular re-accreditation. He is an experienced advocate at both the First-Tier Tribunal and the Upper Tribunal.
Fahad specialises in complex cases involving political asylum, terrorism and national security, criminal deportation, human rights claims and citizenship challenges.
Fahad has successfully conducted judicial review challenges in the High Court and Upper Tribunal against decisions of the Home Office in matters relating to unlawful detention, removal, delays, naturalisation, failure to apply policy, fresh claims for asylum, fee waiver applications and entry clearance refusals.
Fahad has secured tens of thousands of pounds in damages for clients who were unlawfully detained.
Fahad is regularly instructed in cases involving a national security element including deprivation of citizenship, exclusion from the refugee convention and deportation following convictions for terrorism offences. These cases often result in proceedings before the Special Immigration Appeals Commission (SIAC) which involves the use of a Closed Material Procedure by which appellants and their representatives are not shown the evidence relied on by the Home Secretary.
Fahad also works as a consultant with Legal 500 firm Duncan Lewis and previously worked with leading immigration firm TRP Solicitors and Legal 500 firms Fisher Meredith LLP and Birnberg Peirce & Partners.
Fahad regularly writes about current affairs and has had articles published in the Guardian and New Statesman. He is regularly invited to comment on legal developments by numerous media outlets including the BBC, Sky News, CNN, TRT and Al-Jazeera. Fahad has spoken at international conferences around the world including at the UN Human Rights Committee in Geneva.
Media Appearances
TELEVISION
'Daesh Returnees Should they be allowed to return to the UK?', TRT World, 4 March 2019 Panel discussion on deprivation of citizenship alongside Richard McNeil Wilson, Afia Ahmed and Ellie Green
'Sajid Javid defends decision to revoke citizenship from Shamima Begum', Channel 4, 20 February 2019
'Lawyer's surprise over Home Office move' Sky News, 19 February 2019
BBC Newsnight, 7 December 2017 Discussing Defence Secretary's proposals to extrajudicially execute fighters in Syria
BBC News, 6 October 2012 Interview in relation to extradition of British citizen Babar Ahmad to the US
---
RADIO
'Clause 9 and the erosion of citizenship rights, Guardian Podcast, 9 February 2022' Fahad Ansari discusses the development of the deprivation of citizenship policy, its human impact and how matters will deteriorate further with the Nationality and Borders Bill.
'Unreliable Evidence' BBC Radio 4, 10 August 2019 Fahad Ansari discusses deprivation of citizenship in a panel alongside Lord Carlile, Professor Thom Brooks and Karen Doyle.
'Immigration Lawyer says Britain has a Duty of Care for Shamima Begum's baby', LBC, 20 February 2019 Radio interview with Shelagh Fogerty over Home Secretary's decision to deprive Shamima Begum of her citizenship
---
ARTICLES
'UK judge allows gov't to clamp down on Palestine solidarity in schools', Middle East Monitor, 7 July 2022, 
'Israeli student to appeal UK asylum case on apartheid grounds', Middle East Eye, 17 March 2022
'UK judge overturns Home Office decision on Israeli asylum seeker', Middle East Eye, 4 March 2022
'Russia-Ukraine war: UK government won't say if it will use Syria law to deter fighters', Middle East Eye, 1 March 2022
''Maximum Suffering.' A Man Stripped of His Citizenship Sheds Light on the Potential Impact of the U.K.'s Nationality Bill', TIME Magazine, 10 February 2022
'British nationality law threatens millions with a loss of citizenship', TRT World, 6 December 2021
'Israeli Yeshiva Student Could Open Asylum Doors to Conscientious Objectors, Palestinians', Haaretz, 13 October 2021
'Anti-Zionist Jew seeks UK asylum after refusing military service in Israel', Andolou Agency, 20 September 2021
'In a landmark case, an Israeli man is requesting UK asylum, saying he'll be made to participate in 'apartheid' if he returns', Business Insider, 19 September 2021
'Israeli student seeks asylum in UK to avoid committing 'crime of apartheid', Middle East Eye, 16 September 2021
'Jewish anti-Zionist to plead his case for asylum in the UK', Al Jazeera English, 16 September 2021
Home Office awards damages to man falsely linked to 9-11 after refusing him entry to the UK on eve of Brexit, CAGE, 10 September 2021
'Gavin Williamson faces free speech legal challenge over Palestine letter', Byline Times, 3 August 2021
'UK: Rights group challenges Williamson's schools guidance on Palestine', Middle East Eye, 2 August 2021
'Foreign Office is 'complicit in British man's Somalia torture'', Guardian, 25 July 2021
'Man held by police despite winning legal fight over his British citizenship released', Sky News, 8 May 2021
'Man who won legal fight to stop his UK citizenship being revoked subject to 'campaign of harassment", Sky News, 1 May 2021
'British man unlawfully left stateless over travel to Syria returns to UK', Middle Eastern Eye. 30 April 2021
'Shamima Begum: How 'Isis brides' have been left marooned in Syria as the civil war drags on', inews, 17 March 2021
'International lawyers coalition condemns erosion of protection for legal advocates in letter to UN rights expert', Jurist, 8 February 2021
'The politics of refusal: How Muslims can resist the West's hostile gaze', Middle Eastern Eye, 25 January 2021
'How Muslims are challenging Islamophobia by refusing to condemn terrorism',  Metro, 17 December 2020
'Nameless, stateless: The story of N3', Tortoise, 7 December 2019
'Shamima Begum case highlights 'two-tier racist system", Al Jazeera, 5 March 2019
'Shamima Begum will not be allowed here, says Bangladesh', Guardian, 21 February 2019
'A secret court reverses the British government's decision to make two men stateless', The Canary, 22 November 2018
'UK blocked from making alleged extremists stateless by secret court in ruling that will set precedent', Independent, 22 November 2018
'Victims of crime being handed over to immigration enforcement' Guardian, 14 May 2018
'Home Office official tells man facing deportation: 'My job is to piss you off', Guardian, 9 May 2018
'Home Office threatens to deport Polish man seeking help after attack', Guardian, 7 December 2017
"Make a big song and dance and get publicity' to become a British citizen', BBC newsbeat, 31 August 2017
---
COLUMNS/BRIEFINGS
'Exporting Hindutva: Civil unrest in Leicester severs interfaith harmony and ignites sectarian fears', The New Arab, 27 September 2022
'Victim of brutal domestic abuse loses appeal against deprivation of British citizenship', Free Movement, 10 March 2022
'From Second Class British Citizenship to None', SOAS ICOP Policy Briefing, 27 January 2022
'Citizenship Deprivation: The legacy of Tony Blair's desperation to deport one British man', CAGE, 22 December 2021
'Case Comment: Secretary of State for the Home Department v NF, [2021] EWCA Civ 17', Journal of immigration, Asylum and Nationality Law vol 35 no 2, 2021, pp178-179.
'Three win appeals against losing British citizenship', Free Movement, 22 March 2021
'Stop pointing fingers, Priti Patel, you have created an environment in which people traffickers thrive', Independent, 29 October 2020
'Tory Lawyer-Bashing Is a Long-Held Tradition – With Dangerous Consequences' Novara Media, 28 October 2020
'Knee-jerk counter-terror bill will not make the UK any safer', The New Arab, 13 February 2020
'Criminalised for Caring: Has the CPS lost its moral compass?' CAGE, 28 June 2019
'The Home Secretary can legally deprive Shamima Begum of her citizenship – but he shouldn't', Free Movement, 20 February 2019
'A racially aggravated prosecution? The case of Ashar Ahmed', Open Democracy, 21 March 2012
'Do books prime "people for terrorism"?' New Statesman, 15 December 2011
'It's ridiculous to claim our extradition treaty with the US is fair' Guardian, 27 October 2011